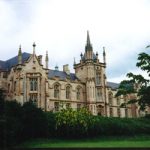 The Chamber of Commerce in Derry is urging the University of Ulster to prioritise courses that support the economy.
Responding to indications that the university may be facing cuts, Chamber President Gerry Kindlon says Derry already has an economy that is in dire straights, and the last thing the city needs is for a reduction in the skills output locally.
Chamber, and the U4D group are calling on the university protect the Magee Campus when cuts are being made, and to ensure the courses of greatest economic relevance are safeguarded.
Gerry Kindlon says it's a compelling argument............