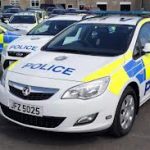 A 27 year old man who was arrested by detectives from PSNI Serious Crime Branch, investigating an incident in which an under car improvised explosive device was placed under the car of a police officer in Eglinton on Thursday morning, has been released unconditionally.
Detective Chief Inspector Gareth Talbot said police are still at the early stages of this investigation.
They are continuing to appeal for anyone who may have been in the Eglinton area around 2.45am on Thursday, 18 June or in recent days and who may have witnessed anything untoward or noticed any persons acting in a suspicious manner to contact Police.
They are also appealing for anyone who may have witnessed any vehicles seen leaving the area at speed shortly after 2.45am to contact them.
Anyone with information should contact detectives at Serious Crime Branch on 101 or alternatively contact Crimestoppers on 0800 555 111.