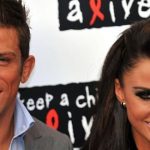 Alex Reid would "love" it if his daughter were to take up cage fighting.
The retired mixed martial artist and kickboxer - who was married to Katie Price from February 2010 to January 2011 - has confessed he's keen to train his three-year-old daughter Dolly from his relationship with ex-girlfriend Chantelle Houghton once she's older.
He exclusively told BANG Showbiz: "I'd love that. Absolutely. It's a good way for her to empower herself and to develop her mind - it's like mental chess, continually having to overcome problems.
"It would teach her to be strong, to be a good human being, community, respect and I'd like that because she could look after herself and be like her dad."
The 39-year-old star - who is launching his own fitness retreat in Marbella, Spain - also admitted he'd be more than supportive if she decided to follow in his footsteps by pursuing a career in the sport.
He added: "Absolutely, yeah, if that's what she wanted I'd love that."
Meanwhile, Alex is hoping to help customers achieve their weight-loss goals with his unique Roll & Flow exercise regime and juice diet.