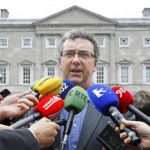 Its been revealed that some parts of Donegal may not get broadband for six years.
In a reply to a question submitted to the Minister by Donegal Deputy Thomas Pringle, he was informed that many areas in the Northwest would not have high speed broadband until 2021.
There are currently 83,935 premieses in the North West region without broadband.
Deputy Thomas Pringle says this isn't good enough and the government needs to make Donegal a priority.............