This Summer of 2015 sees Ireland's leading Mountaineer Jason Black take on the biggest climb of his life and you will be able follow his progress with Jason's online blog on highlandradio.com and an audio blog on air each day!!!

The mountain has not been attempted by any Irish mountaineer since 2008 where Ger McDonnell was the first Irish person to reach the Summit of K2, the second-highest mountain on Earth.
Ger McDonnell lost his life along with ten other mountaineers following an avalanche on the descent, in the worst single accident in the history of K2 mountaineering.
K2 known as the mountaineers mountain is the holy grail and the hardest climb in the world. The sporting qualities required to survive K2 is enormous, the physical & mental effects without doubt is the hardest endurance test in the world. For 76 days Jason will battle against the sheer ability to stay alive. Jason Blacks commitment to this climb has be seriously intense since 2013 summiting Mt Everest northface & returning from the Arctic 2014, he has worked tirelessly training twice a day for the last year placing endurance & strength to the fore.
Not common in other endurance sports is the sheer fact that if you generally stop you loose on K2 its very different, you stop your dead. Earning its reputation "The Savage".
The second highest mountain in the world—just 237 meters shorter than Mt. Everest—has a reputation for being far more hazardous than Everest, and the statistics don't lie: Historically, for every 100 climbers who have made it to the summit of Everest, four have died. For every 100 climbers who have summited K2, 29 have died. A scant 306 people have ever stood on the summit of K2, compared to more than 5,600 Everest summiters. The weather is worse on K2. The climbing is more difficult, with two technical sections, House's Chimney and the Black Pyramid. Once safely past those, climbers must navigate the narrow Bottleneck couloir, forcing themselves underneath a set of massive seracs.
The Facts
K2 is known for extreme weather, avalanches and rock fall. It starts steep and never lets up. 2008 was a deadly year with 11 deaths in a single incident and 13 deaths during the 1986 season. 2012 was the most successful year with 30 summits, 28 on July 31st. There were no summits in the recent years of 2009, 2010 and 2013 primarily due to weather and snow conditions. Until recently, most climbers did not use supplemental oxygen on K2.
Jasons route is up the Abruzzi Ridge. There are several technically difficult features requiring skilled climbing. These include Houses' Chimney, the Black Pyramid and the Bottleneck Couloir. There are no easy routes on K2.
K2 map
There are multiple camps depending on conditions.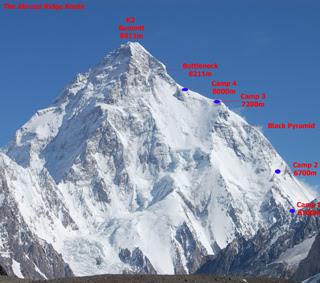 Base Camp: 17,500ft/5334m
Advanced Base Camp: 18,650ft/5650m
Camp 1: 19,965'/6050m
Camp 2: 22,110'/6700m
Camp 3: 23,760'/7200m
Camp 4: 25,080'/7600m
Summit: 28,251''/8611m
TRIP ITINERARY:
Day 01 Arrive Islamabad. Transfer to hotel for overnight.
Day 02 Free day at Islamabad
Day 03 Skardu / Chilas
Fly to Skardu PK-451 (10:35 – 11:35). (Flight is subject to weather). Upon arrival transfer to Hotel
In case of cancellation of flight then drive by coach to Chilas on Karakoram Highway O/N Lodges
Day 04 Chilas / Skardu - free day at Skardu
Day 05 Skardu - Briefing at Tourism Department of Gilgit Baltistan. Final preparation at Skardu O/N Hotel
Day 06 Drive by Jeep to Askole: (3000m)
Day 07 Trek to Jhola: (3200m)
Day 08 Trek to Paiyu: (3600m)
Day 09 Rest Day Paiyu: (3600m)
Day 10 Trek to Urdukas: (4200m)
Day 11 Goro II: (4500m)
Day 12 Concordia (4700m) / K2 Base Camp (5100m)
Day 13-64 52 days for acclimatization and climbing K2.
Day 65 Trek back to Gore II (9-10 hrs) O/N Camp
Day 66 Trek to Khuburtze (8-9 hrs) O/N Camp
Day 67 Trek to Paiyu (5-6 hrs) O/N Camp
Day 69 Trek to Johla (7-8 hrs) O/N Camp
Day 70 Trek to Askole. (7-8 hrs) O/N Camp
Day 71 Drive by jeep to Skardu O/N Camp
Day 72 Farewell meeting (de-briefing) at Tourism Department of Gilgit Baltistan. O/N Hotel
Day 73 Islamabad / Chilas
Fly to Islamabad PK-452 (12:30 – 13:30). (Subject to weather). Upon arrival transfer to hotel.
In case of flight cancellation drive to Chilas. Overnight at hotel.
Day 75 Leisure day at Islamabad
In case of driving, complete road journey from Chilas to Islamabad. O/N Hotel
Day 76 Final Departure.
Jason Black at Mt Everest Summit 19th may 2013