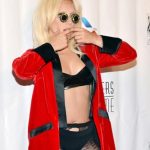 Lady Gaga obviously decided it wasn't worth getting dressed up to be honoured by the Songwriters Hall of Fame.
The I Can't Give You Anything But Love singer arrived at the ceremony in a red velvet jacket, with just a black bra and panties and ripped tights underneath, teamed with biker boots and retro round sunglasses.
Gaga picked up an honorary prize, along with Van Morrison, while Tony Bennett and Stephen Colbert were also among the stars at the 46th annual ceremony in New York.
New inductees included country stars Toby Keith and Bobby Braddock, the late Chicago bluesman Willie Dixon, the Grateful Dead songwriting team of Robert Hunter and the late Jerry Garcia, rock composer and performer Linda Perry and pop and stage star Cyndi Lauper.
Amazement and gratitude were common reactions.
"I still can't believe I make a living making music," Cyndi said during her speech.
Bennett, 88, presented his friend and collaborator Lady Gaga – who changed into a zebra striped suit for the ceremony – with a Contemporary Icon Award after Gaga and Linda Perry honoured each other.
Gaga stormed through Linda's What's Up? and Linda said it was "crazy" that a song she dashed off in her bedroom, fighting off fleas from her dog, would be embraced by a world famous performer.
Carly Rae Jepsen faithfully sang Cyndi's moody ballad Time After Time and Michael Buble crooned a finger-snapping version of Van Morrison's Moondance.
Morrison, the night's final act, had a more practical take. Looking like a Blues Brother in his familiar black, with dark shades to match, he noted how songwriting royalties keep the money coming in during dry spells in his career and talked of convincing Buble to record a duet with him of Morrison's hit Real Real Gone.
"So the name of the game is hustle," he said.