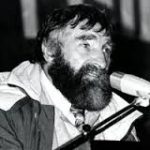 The government has been urged to meet with the family of Donegal Councillor Eddie Fullerton in the wake of new evidence of collusion presented in an RTE documentary this week and other recent developments.
The issue was raised in the Dail this afternoon by Donegal North East Deputy Padraig Mac Lochlainn, who said questions about the killing of Eddie Fullerton in Buncrana over 24 years ago have never ben answered, particularly by the British government.
He said the government has a responsibility to follow up on issues which have been raised..........