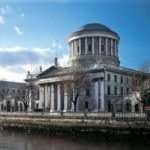 The husband of a woman who died of cancer after it was not detected in earlier tests has said an unreserved apology from Letterkenny General Hospital is too little, too late.
On Friday, the HSE has settled an action for damages arising from the death of mother of three Melissa Hamilton.
The 34 year old died in September 2011, weeks after she was diagnosed with grade 3 breast cancer.
On two earlier occasions, the disease went undetected at the hospital's breast care clinic.
Liability was admitted in a damages action against her GP and the HSE.
Speaking on today's Shaun Doherty Show, her husband Seamus said the 900,000 euro awarded under the settlement will go towards the education of their three daughters, the youngest of whom was eight days old when her mother died.
Seamus Hamilton says he pursued the case because of a promise he had made to Melissa while she was in hospital.........