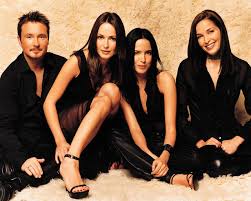 Yes, you read right, The Corrs have reformed!
The Irish siblings are back together and will play their first live show in a decade this summer.
The news comes after Sharon, Caroline, Andrea and Jim Corr played together in April for the first time in 10 years at the funeral of their late father Gerry Corr.
The band have now confirmed the news and announced their first gig in a decade will be at Radio 2 Live in Hyde Park, London, on September 13.
BBC presenter Chris Evans confirmed the news on his show this week and spoke to lead singer Andrea.
"We're in the process of making a new record, so it feels just right to do this. It's exciting," she told him.
"We emerged after our lives going in different directions - babies and all that."