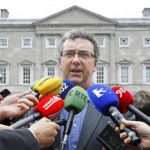 Donegal Deputy Thomas Pringle says the battle against Water Charges is being won.
It was confirmed in the Dáil today that over 800,000 Irish Water bills have passed the pay-by-date as of May 18th. Deputy Pringle says 'this indicates we are heading towards at least one million people refusing to pay the water bills'.
He says while Irish Water may argue that many or these intend to pay but haven't done so yet, he believes this shows that the non-payment campaign is succeeding.................