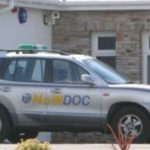 Health Minister Leo Varadkar has said research shows that overnight GP cover in Donegal can be cut without compromising safety.
All three Donegal South West TDs, Pearse Doherty, Dinny Mc Ginley and Thomas Pringle shared speaking time during a Topical Issues debate in the Dail last night to express concern at the prospective loss of overnight services.
Deputy Doherty told Minister Varadkar it's significant that the three TDs are working together on this issue.
The first of the three TDs to speak was Deputy Thomas Pringle...........
Responding, Minister Varadkar said while a formal proposal has not yet been submitted, consultations and discussions are continuing, and call out figures show the number of GPs can safely be cut..............
All three TDs then spoke briefly in response to the minister, before he offered a final response.
Deputy Pringle began, saying there had been no meaningful consultation with service users on this issue.................