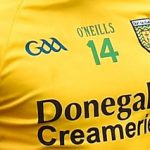 Two players and two backroom team members of the Donegal Minor team have been hit with heavy suspensions by the Ulster Council following an incident which took place during Donegal's win over Armagh in the championship on Sunday 31st May.
Highland Radio Sport understands the suspensions could be as severe as each person involved receiving a ban of two months.
The reported incident which involved an Ulster Council official occurred just before the start of the 2nd half at the Athletic Grounds.
The Donegal County Board have released a statement on the matter and have indicated they are considering an appeal to the punishment.
"Following much media speculation this morning, CLG Dhún na nGall can confirm that we have received communication from Comhairle Uladh with regard to a disciplinary matter at half-time of the Minor Football Championship Quarter-Final game v Armagh on Sunday May 31st. There will be no further comment at this time and CLG Dhun na nGall would respectively request that consideration be given to the fact that names of underage players should not be speculated upon while consideration is being given to an appeal process."
Donegal defeated Armagh to reach the semi finals of the Ulster Championship where they will meet Derry at Clones on Saturday 27th June.