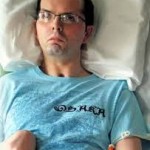 Following the death of Paul McCauley Police have commenced a murder investigation.
The following statement has been issued in response to Paul's tragic death:
Senior Investigating Officer DCI Michael Harvey said: "On behalf of the entire police family, I want to extend our deepest sympathies to the McCauley family following Paul's death. They have conducted themselves with great dignity over the past almost nine years since the vicious attack on Paul and his friends. The love and care they gave to Paul have been a beacon of light in a tragically dark set of circumstances.
"Nothing we can say will ease the pain which the family is enduring at this sad time. I have only recently assumed responsibility for the investigation but I know I speak for everyone in the Major Investigation Team, previous senior investigating officers and colleagues in District police when I offer the McCauley family our heartfelt condolences. They have been a compelling voice on Paul's behalf, a voice with dignity, energy and compassion.
"Paul was an innocent victim of an unprovoked sectarian assault on 16 July 2006. Our Chief Constable said last year he was sorry that more people had not been brought to justice than the one individual who was convicted and sentenced.
"In memory of Paul, for the McCauley family and in the interests of justice, police stand ready to explore any opportunities provided either by a change in circumstances or a qualm of conscience. The investigation remains open and detectives are committed to bringing those responsible to justice."