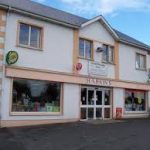 It's emerged a robbery took place in Harkins Shop in Muff, Co. Donegal
The incident took place at approximately 7.30 Friday evening.
Three individuals are believed to have taken part in the robbery.
Two entered the premises while one remained a car outside.
They demanded the contents of the till while also taking cigarettes from behind the counter.
One of them was carrying a hammer and threatened staff.
Gardai arrived at the scene but the group had made their getaway.
At this stage no one had been arrested in relation to the incident.