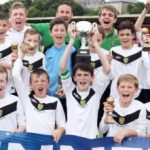 The Foyle Cup is just over a month away.
Hundreds of young players from all over Ireland, the UK and further afield will participate in 380 games to be played in Derry and the surrounding area's.
On Saturday Sport, Chris Ashmore looked ahead to the event with Foyle Cup Chairman Michael Hutton...