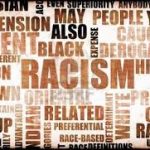 A teenager who moved to Letterkenny 7 years ago has been outlining the details of what she described as an horrific act of racism.
Lina was walking with friends in Letterkenny this week when a man called her an effing black 'B' telling her to go back to her own country.
She further claims the man began screaming at the group and began to physically harass them until a security gaurd intervened.
Lina says this is not the first racist incident she has experienced since moving to Letterkenny.
She's been outlining her experience to Highland Radio News.....