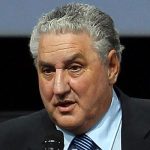 It's the story that's making the headlines on the front and back pages of most of the nationals this morning.
FAI chief executive John Delaney has insisted that the 5m euro payment made by FIFA to the association represented very good business.
Last night the FAI issued another statement on the matter.
They say the matter has been reported before in the media however the Association has, until now, abided by the confidentiality agreement required by FIFA as part of the settlement.
The FAI say the settlement was reached following strong legal advice given to the Association regarding the case against FIFA .
Interestingly Fifa Vice President, Jim Boyce has called for an investigation into the matter - he said how anyone could authoris a payment of 5m euro to stop legal proceedings was totally beyond him.