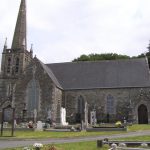 The two cousins killed in this week's fatal crash on the A5 Victoria Road near Newbuildings will be buried in separate funeral services at the weekend.
Police are warning of traffic delays on both days in and around Donemana, and the families of both men are appealing for privacy.
The funeral service for Aaron McDonald will take place in St James's Parish Church, Earlsgift, on Saturday, that of his cousin Michael, at the same church on Sunday.
Police are advising of heavier than normal traffic volumes before and after the services.
Aaron McDonald will be interred at Mountcastle cemetery, which is several miles from the village, and Michael in the Earlsgift burial plot. Motorists intending to travel through the village between 1.30pm and 4pm each day are advised to seek alternative routes.
Meanwhile, the families of both men have asked for privacy, and in a media release this afternoon, the PSNI say the Church of Ireland has asked them to emphasise that the church at Earlsgift, its adjoining burial ground, and the cemetery at Mountcastle are private property.