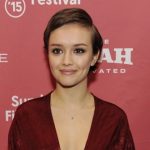 The British star of the hottest movie at the Sundance Film Festival has revealed that Friends reruns and the Kardashians have helped her perfect her American accent.
Olivia Cooke plays a teenage girl battling cancer in Me And Earl And The Dying Girl, which won the Grand Jury Prize and the Audience Award at the Utah festival in January.
The film follows in the footsteps of Whiplash, which scored five Oscar nominations after winning both top prizes at Sundance the year before.
Olivia, 22, is best known for her work in Psycho prequel Bates Motel and is originally from Oldham, Greater Manchester.
Speaking in her native accent on the red carpet at the Los Angeles premiere of the film, she said: "Now it is easy but the first time I did it in the first two episodes of Bates Motel my accent is awful, it's really, really bad. Two and a bit years on it is second nature though.
"The influx of American TV means I'm always trying to do a Rachel and a Ross thing because I watched so much Friends.
"We are always mimicking and trying to sound like the Kardashians and everything like that. My sister does a great Kim Kardashian impression and we are from Oldham.
"I don't know what accent I'm doing in this film, I'm trying to do American and hopefully it passes."
The independent film premiered to a standing ovation at Sundance and was the subject of competing bids from film studios and distributors.
Olivia said the buzz surrounding the film since then has opened doors for her in Hollywood.
"It's really bizarre, I don't know if it's flavour of the month and I will be carted out as soon as this movie opens but it's wonderful.
"I've been able to have meetings with wonderful film-makers and have access to amazing scripts that before I didn't when I was scraping the barrel a bit."
The film also features Nashville star Connie Britton, who strips off the make-up and rhinestones from her country music TV show for a far less glamorous look.
Connie said: "I felt like I know women like the one I was playing in this movie and I wanted to go there.
"The part isn't huge so I wanted to be as specific as I could with the moments that I had so it was really fun to go bravely into really bad make-up, really bad hair, some really inappropriate glasses."
Me And Earl And The Dying Girl will be released in the UK on September 11.