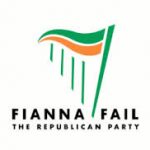 Fianna Fail's PRO in Donegal says while it seems likely the the county will see two male candidates in the next General Election, she would love to see a woman's hat in the ring.
Aine McGinley was speaking ahead of an event being hosted by the Fianna Fail Women's Network at the Red Cow in Dublin on Saturday at 3pm.
The event is a continuation of the party's roll-out of activities aimed at increasing female participation in Fianna Fail politics.
Ms McGinley says that is a challenge, but stresses it's an initiative which has been in place long before the resignation from the party last week of Senator Averill Power..........