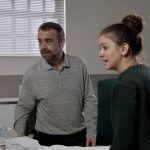 If any poor Corrie fans were hoping for a quiet week after last week's flaming hot drama, they were do be disappointed.
Because not only was there some difficult news for Michael, there was another death on the street following the fire that killed Kal.
Everyone loves getting mail, so Michael must have been delighted to discover there was a parcel waiting for him. Except everyone was desperate for him not to see it.
That's because it featured proof that his son wasn't who he claimed to be.
So off Gail went on a wild goose chase around Weatherfield to get hold of that parcel. She was convinced that if her husband saw it, he'd literally have a heart attack.
And who should have taken delivery of it but Norris? Inevitably, Norris was not giving up that parcel – not to anyone who wasn't Michael.
But if Michael thought he was having a bad day, at least he wasn't by the bedside of the woman he loved at Weatherfield General.
That's where Sophie was, with Maddie fighting for her life following last week's explosion. Except the true gravity of the situation didn't seem to have hit home – because Sophie was busy flat hunting in the local paper.
It was one of those soap opera red flags that told you exactly what was going to happen.
As soon as Sophie dared to have hope for the future, Maddie was never going to get better.
The machines started beeping in that ominous way, and a nurse was called for. Some frenzied activity later, and the sad news was confirmed.
It was a body blow to Sophie, and to the watching fans.
And there wasn't a dry eye in the house as Sophie said a tearful goodbye.
Back on the street, Gail was trying to convince Michael the pair still had a future together, despite her having hidden the truth about his son. He was having none of it though.
The future looks pretty bleak for that marriage…