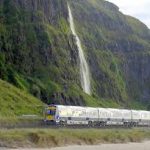 A contract has been signed to complete Phase II of the Belfast-Derry railway line.
The announcement was made at Stormont this morning by Regional Development Minister Danny Kennedy.
The works include a passing loop on the line between Derry and Coleraine, which should pave the way for an hourly service between Derry and Belfast.
Welcoming the announcement, East Derry MLA John Dallat described the campaign for the upgrade as an ambition that refused to die, kept alive by sheer people power.
DRD Statement in full -
The contracts for a major scheme to complete re-signalling works and a passing loop on the Coleraine to Londonderry railway line have been awarded.
Transport Minister, Danny Kennedy said that Babcock, a leading supplier in the UK rail infrastructure market, was the successful bidder to deliver the signalling scheme, as part of an overall project costing £46million. Local firm, McLaughlin & Harvey, has also been awarded the contract for the construction of a passing loop at Bellarena.
The Minister said: "I am very pleased to announce today that work can now progress on this important project.
"My commitment to the Coleraine to Londonderry rail line has always been clear and I have worked hard to ensure that this line remained open.
"The project is a key Programme for Government (PfG) commitment and is evidence of the Executive's determination to invest in our rail network. It also signals our continuing commitment to invest in the North West and improve connections and frequency of service between Belfast and Londonderry."
In November 2014, the Minister commissioned an independent review of the project following concerns that the original cost estimate for the scheme was significantly underestimated.
Continuing the Minister said: "The outcome of the review provided me with the assurance to press on with the project. It did make it clear, however, that there might be limited interest in the signalling project due to the scale of railway investment being carried forward in Great Britain.
"Happily Translink has now awarded the contract to Babcock a company renowned for its engineering excellence. The overall cost at £46million is higher than originally envisaged but reflects the market we are competing in. I will make the funding available from my capital budget and the project should be largely completed by December 2016."
In conclusion the Minister said: "This is good news for the North West and good news for the railways. The path to today's announcement has not been straightforward. It has not been without criticism. I have remained committed to the North West and to this project and today is tangible evidence of that commitment."