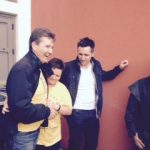 The closing ceremony of this years Donegal Relay for Life has just ended.
The event, which took place in the L.Y.I.T. saw thousands of people taking part over the duration of the weekend, amidst the bad weather.
Around three thousand people turned out for this evening's closing ceremony, led by singer Daniel O'Donnell.
Chairman of Donegal Relay for Life, Robert O'Connor says despite the weather people still persevered: