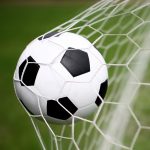 An under 16 soccer player from Donegal has been hit with a two year ban after head butting a match official.
A youth player from Dunfanaghy was found guilty after head butting referee Keith Ferry during an Under 16B Cup game against Gweedore United at Carrickboyle last month.
After the incident the game was abandoned.
The player in question has been punished for assaulting an official and has also been given a stadium ban, which prohibits him from all footballing activity including entering FAI affiliated grounds until May 2017.
A brother of the player was also involved and has been given a five match suspension form the start of next season.
Speaking in today's Donegal News, Donegal Schoolboys Secretary Terry Leyden said "I always say that referees should be respected"
"Referees need protection and we will give it to them. It goes back to clubs and to team managers to instil discipline into their team and make sure that the game is played in the right vein."