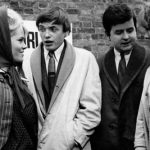 The duo behind TV hits including The Likely Lads and Auf Wiedersehen Pet have penned a new show about a fictional king going through a mid-life crisis.
Dick Clement and Ian Le Frenasi, whose writing credits also include Ronnie Barker's prison classic Porridge, have teamed up again for Henry IX, which is described as "the almost universal story of a middle-aged man trapped in his life… except this one just happens to be the reigning monarch".
The three half-hour episodes are part of series of new shows being made by UKTV.
Commission editor Simon Lupton said: "These commissions demonstrate our commitment to working with the brightest and the best, ranging from welcoming the legendary Dick Clement and Ian Le Frenais back to British TV, to exciting emerging writers, all of whom have produced classic stand-out comedy characters placed firmly in the 21st century.
"We are offering our audience refreshing and enticing shows they can relate to and fall in love with. It genuinely feels like we have something for everyone, and we can't wait to share them with our viewers."