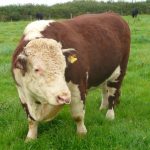 The Irish Natura & Hill Farmers Association is advising farmers still thinking about joining the Beef Data & Genomics Scheme to be very careful about doing so.
Yesterday, Junior Minister Joe Mc Hugh told Highland Radio News that farmers' concerns about the scheme are being addressed by MInister Suimon Coveney.
However, Henry O'Donnell, the INHFA's Donegal Spokesperson says after similar indications were given about commonages last year, it took a huge campaign to have them acted on.
He says the association is very sceptical about the current scheme..........