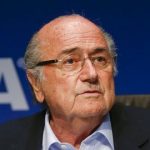 European football's governing body UEFA is considering boycotting today's start of the FIFA Congress in Zurich - believing it could turn into a "farce".
Seven FIFA officials were arrested in Switzerland yesterday as part of a US-led corruption inquiry.
UEFA want tomorrow's presidential election to be postponed - when Sepp Blatter will be going for a fifth term.
Gianni Infantino is UEFA's general secretary.