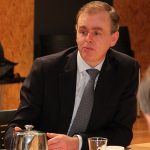 The deadline for the new Beef Genomics Scheme has been extended by a week.
Applications for the scheme, which replaces the previous Suckler Cow scheme were to have closed tomorrow, but Junior MInister Joe Mc Hugh says questions over elements of the programme meant many farmers have not yet signed up.
He says the Agriculture Minister has now extended the deadline, and is urging Donegal farmers to sign up now...........