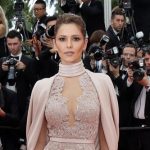 Cheryl Fernandez-Versini has accused Louis Walsh of back-pedalling after he said that they'd made up.
Former X Factor judge Louis had claimed that the pair had reconciled via text message but The Fight For This Love singer denied it.
In a post which has now been deleted from Instagram, Cheryl shared a screenshot of an interview in which Louis said: "I got a text from Cheryl, but we haven't really fallen out – she was just saying funny things.
"She knows I'm writing a book, so it's all fun and games, there's no nastiness."
Cheryl accompanied the screenshot: "Back pedal 1&2&3&4 until out of sight. Ps) I would not have found the text messages I sent to be "funny" but ok!! Toodles."
Louis previously told Heat magazine: "Cheryl wasn't great last year, she's sometimes lazy and lacks energy. She needs to give more…. she's irrelevant these days."