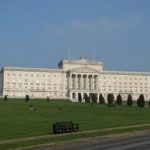 Northern Ireland's devolved government is facing suspension or collapse.
It's after the local parties failed to agree on a Welfare Reform Bill.
The Stormont Assembly never brought in cuts that were agreed in Westminster in 2013, and the legislation that would have allowed that is being blocked by Sinn Fein and the SDLP.
Justice Minister and Alliance Party leader David Ford says it leaves the Assembly in crisis..........
Sinn Féin's Alex Maskey says the ball is now in the British Government's court..........