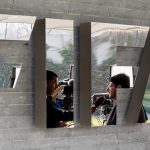 FIFA vice President Jeffrey Webb is believed to be among 6 FIFA officials arrested by Swiss police acting on behalf of the F.B.I this morning in Zurich.
The association says they are clarifying the facts before commenting further on the arrests which relate to bribery allegations.
The Swiss police says they have arrested football officials but haven't specified they are FIFA officials.
Those arrested are suspected of having received bribes totalling millions of US dollars and are set for extradition to the US.
The United States Attorney General Loretta Lynch is due to hold a news conference later this afternoon.
Meanwhile, the Football Association of Ireland say that they will vote against Sepp Blatter in this Friday's FIFA presidential elections.
FAI chief executive John Delaney has told the BBC that they will oppose Blatter's bid for a fifth term in office as he faces a challenge from Prince Ali Bin Al Hussein of Jordan.
Delaney believes that it is time for a change and says that FIFA now has "an incredibly bad brand image".