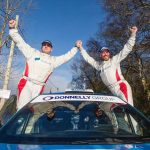 With three wins from three events Donegal's Donagh Kelly (Ford Focus WRC) will seek to continue his dominance of the Triton Showers National Rally Championship that reaches the half way mark on Sunday next with the Circuit of Munster Rally.
Along with his victories in the Abbeyleix Rally, the Midland Rally and maximum points in Monaghan, Kelly and Derry co-driver Kevin Flanagan have also annexed a total of six bonus points – three each from Midland and Monaghan – bringing their total points haul to sixty-six.
Reigning National champion Declan Boyle (who has acquired a Ford Fiesta WRC) is a notable absentee from the Circuit of Munster that has a new base in Kilmallock with headquarters at the Deebert House Hotel. Boyle - one of three drivers to have won back to back national titles is of the opinion that a hat-trick of titles is beyond his reach this time – as he has just seventeen points on the board.
In terms of the Triton Showers series, Kelly's main rival is Monaghan's Niall Maguire, who has acquired Boyle's championship double winning S12B Subaru WRC. "Niall is a formidable opponent, I presume he will have his new car. If we were to secure another set of maximum points, then the Triton Championship becomes a reality. But you can take nothing for granted, the car has been completely re-built since the Rally of the Lakes. You have to work on every aspect. The Power Stage is a good incentive especially if you are not in the rally lead." commented Kelly.
Maguire, second in the non-championship Cavan Rally last week, has yet to decide if he will debut his recently acquired ex-Declan Boyle S12B Subaru WRC. Currently, he's in second spot in the Triton series – fourteen points behind Kelly.
Cork driver Kevin Kelleher (Subaru WRC) returns to Triton action in County Limerick, he's a past winner of the rally and last year finished runnner-up to Sam Moffett. Having finished fourth in the opening round, he retired from the Midland Rally after he he damaged the steering following an altercation with a chicane bale. The Clonakilty driver, a former National Group N winner, has targeted a top three Triton Championship finish.
Kerry's Alan Ring in the Mel Evans hired S12B Subaru WRC occupies the number four berth for the Circuit of Munster as he too will try and move up the championship table. Antrim's Derek McGarrity (S14 Subaru WRC) is seeded at number five while Maynooth's Kevin Barrett in the Triton Showers Subaru completes the top six.
Last year's National Championship runner-up Roy White (MG ZR) has endured a somewhat troubled season and needs a strong haul of championship points in Limerick.
The Ford Escort trio of Chris Armstrong, Ed O'Callaghan and Jonathan Pringle round out cthe top ten. Cavan driver Armstrong is in impressive form this season and has already opened up a twenty points lead over Pringle in the race for the Triton Showers Ford Escort Mk. 2 Champions Trophy. O'Callaghan will be on home territory and is likely to present a real challenge as will Tipperary's Barry Ryan. Other Mk. 2 protagonists are Jack Newman and Manus Kelly while the Toyota Starlet pair of Monaghan's David Moffett and Carlow's George Condell will provide an added dimension to the two-wheel drive category.
British driver John Stone in his Skoda Fabia WRC makes another foray across the Irish Sea where he will have the Skoda Fabia S2000 of Longford's Tommy Doyle amongst the opposition.
Despite missing the last round, Tyrone's Aidan Wray (Mitsubishi) retained the lead in the Motorsport Safety Group N category. His rivals in Limerick include reigning champion Shane Maguire, who crashed on the opening stage in Monaghan, Paul Barrett (Subaru), who is currently in second spot, former Irish Forest champion Pat O Connell (Mitsubishi) and Carrick-on-Shannon's Sean Gallagher (Mitsubishi)
Having campaigned his Toyota Starlet in Monaghan, Donegal's Declan Gallagher will revert to the Toyota GT86 on Sunday next.
Top 10 Starters:
1. Donagh Kelly/Kevin Flanagan (Ford Focus WRC)
2. Niall Maguire/Enda Sherry (Subaru WRC)
3. Kevin Kelleher/TBA (Subaru WRC)
4. Alan Ring/Adrian Deasy (Subaru WRC)
5. Derek McGarrity/Diarmuid Falvey (Subaru WRC)
6. Kevin Barrett/Sean Mullally (Subaru WRC)
7. Roy White/James O'Brien (MG ZR)
8. Chris Armstrong/James Fulton (Ford Escort)
9. Ed O'Callaghan/Raymond Scott (Ford Escort)
10. Jonathan Pringle/Martin Byrne (Ford Escort)