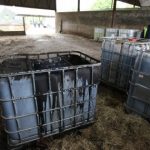 Investigations are continuing to assess what damage, if any, has been done to the River Ness in County Derry after containers filled with sludge from illegal fuel laundering were dumped beside it on Thursday night last.
The Ness is a tributary of the River Faughan.
The containers were found on the Bairnault Road by members of the River Faughan Anglers.
Local anglers say an oil slick was visible on the surface of the river, but there did not appear to have been a fish kill.
Some of the containers were either burst or lying on their side, but Environment Minister mark H.Durkan says much of the waste had been stopped from going into the river by the Loughs Agency.
In a statement at the weekend, Mr Durkan paid tribute to the River Faughan Anglers for their vigilance, which he said enabled a swift response from statutory agencies.
He added Fuel laundering and the reckless dumping of the highly toxic waste products is totally irresponsible and very dangerous. It harms communities on a number of levels and shows a total disregard for the environment. He concluded the money spent on cleaning up after criminals could be much better spent to secure a better environment for the whole community."