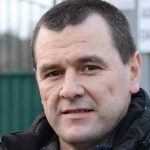 The Donegal and Tyrone County Boards are investigating an incident which took place during last Sunday's Ulster Minor Championship game where a Donegal player was allegedly verbally abused about his father who died last year.
Donegal Minor Manager Declan Bonner said in today's Donegal News that the treatment of the player was toxic and if this is what's going to happen in games he doesn't want to be part of it.
Speaking on this morning's Shaun Doherty Show, Donegal County Chairman Sean Dunnion said the incident has to be dealt with and that it does not happen again.