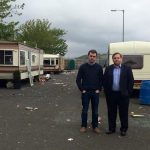 A political row has broken out over the future of the Lisfannon Halting Site outside Buncrana, with Fianna Fail Councillor Paul Canning accusing Sinn Fein of jeapordising a possible solution.
It follows a joint statement last night from Deputy Padraig Mac Lochlainn and Cllr Jack Murray, calling for the immediate closure of the site, and the provision of a safer alternative.
Donal Kavanagh reports..............