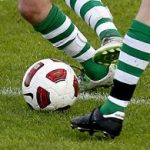 Champions Cockhill Celtic remain unbeaten in the Ulster Senior League after last nights draw with Derry City Reserves.
Cockhill were 2-0 up early in the first half as Gerald Mc Laughlin and Paul McKinney put Donal O'Brien's side in control of the tie.
Derry pulled one back just before the break when Ryan Doherty fired home and the equaliser came on 76 minute's as Stephen Mills squared the game up to force a share of the points.