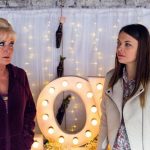 Coronation Street's Beverley Callard has opened up about her character Liz McDonald's heartbreak to come when she discovers she has been cheated on.
Rovers landlady Liz's boyfriend Tony Stewart (Terence Maynard) has been having an affair with Tracy Barlow (Kate Ford) and the pair have been plotting to take control of the pub behind her back.
But when Tracy exposes the affair to Liz on the day of Steve and Michelle's wedding, a crushed Liz realises she must put being mother of the groom first.
Beverley said: "Liz still doesn't quite believe it until Tracy hits her with the killer blow that they've been trying to get the Rovers from under her. That just puts the lid on it for Liz and the only thing she can think is, 'I can't ruin the wedding' as she's worried Steve will sink back into his depression so she just puts a brave face on it."
She added: "Carla is the first person she tells, then Eileen and Erica, so at some point Tony will have to face this posse of vengeful women who all feel immense hatred towards him.
"She can't bear for Tony to touch her, all she can do is keep looking at Tracy and Amy, this is not just any woman who's betrayed her it's the mother of her grandchild, the daughter of her best friend. Liz is just waiting, which is brilliant."
Beverley teased that viewers would see Liz's reaction and it would be worth the wait: "There's enormous explosions which is great, but you have to wait quite a while for that.
"She's trying to be sensible and react with dignity but she can't quite keep hold of it all the time which is fantastic to play. It's constantly bubbling just beneath the surface."
She also warned that despite her moving on with new love interest Dan, there could be more to come from Tony: "He has still got a share in the Rovers and I'm not sure he's prepared to let Liz go without a fight. I don't think we've seen the last of Tony."