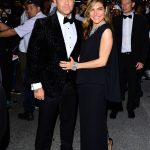 Yesterday Robbie and his wife Ayda attended the Chopard Party in Cannes last night and the only thing attempting to detract from that statement do is the lively jacket he has on him, which resembles the wall paper in Max Branning's living room.
Needless to say, Robbie and Ayda are "strenuously denying" the allegations of sexual harassment. A rep for the couple speaking to The Mirror said: "The claims being made by a disgruntled former employee, after he was sacked for serious misconduct, are entirely without substance... Any proceedings will be strenuously defended. There will be no further comment on the matter as it is in the hands of the lawyers."
And for those of you too young to get the Pepe le Pew reference, here is Robbie in a previous life.