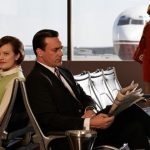 It's the end of an era as Mad Men has run its closing credits for the last time.
The series finale marked the last ever episode of the advertising agency period drama that has drawn in scores of fans over seven seasons and made stars of its leading cast.
Fans would no doubt have been delighted to see Peggy (Elisabeth Moss) finally find love with Stan (Jay R. Ferguson), Joan (Christina Hendricks) remain strong and single, and Pete (Vincent Kartheiser) back with his estranged wife and living a happy new life in Kansas.
It was a much sadder ending for Betty (January Jones), who was coming to terms with dying from lung cancer and leaving behind her three children, while Don (Jon Hamm) went through something of an epiphany at a spiritual retreat and was last seen practising yoga before hitting on the idea for one of Coca Cola's most successful adverts.
Now that your Mad Men fix will have to remain consigned to box sets, where can you catch up with the lead characters in their new lives?
Now that he's hung up his Don Draper suit in the wardrobe for the last time, Jon is free to play some very different roles – and the variety he's gone for certainly suggests he is loving the freedom of not being tied to the hard-nosed ad boss.
He can be seen in US sitcom Unbreakable Kimmy Schmidt, about a woman who breaks free of a doomsday cult, and is also signed up to star in the satirical summer camp reboot Wet Hot American Summer.
On the big screen, he can be heard voicing a character in kids blockbuster Minions and is set to star alongside Gal Gadot, Isla Fisher and Zach Galifianakis in comedy Keeping Up With The Joneses.