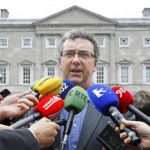 A Donegal TD will tonight move a private members' motion in the Dail calling for a referendum to have Economic, Social and Cultural rights enshrined in the constitution.
Deputy Thomas Pringle says such a move would be pivotal in creating a rights based society, and would offer protection to many people.
Deputy Pringle says the Constitutional Convention voted 85% in favour of such a move during its deliberations last year, and he wants to wnsure that a meaningful discussion and referendum take place early in the term of the next government..........