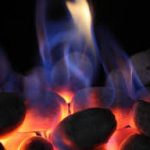 It's been confirmed that there's been a ninefold improvement in air quality in Letterkenny since a ban was introduced on smoky coal a year ago.
At a recent meeting of the Letterkenny Municipal District, members were presented with a figures collated by the HSE which show the effect the ban has had.
Cllr Dessie Shiels told the meeting this must rank as the single most important environmental improvement ever brought about for Letterkenny.
Doireann Mc Clintock is Waste Regulation Officer with the council. He says the ban has been an unqualified success..........