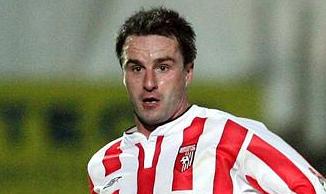 New Oldham manager Darren Kelly has received a death threat, which has been reported to the police by the club.
Kelly was appointed last week to his first managerial role after gaining his Uefa Pro Licence.
The 35-year-old Derry man has since had to refute claims that he is a supporter of the IRA.
Reports suggest the threat was delivered by hand and contained a demand for Kelly to be sacked.
Oldham Athletic say they are aware of threats and they say these matters have been passed to the police.
The threats began when Mr Kelly used Twitter to thank the Sinn Fein Deputy First Minister for sending him a photograph of his mum, Peggy Kelly, taken at a Bloody Sunday commemoration.
Mrs Kelly's brother Michael Kelly was one of 13 civil rights supporters shot dead by paratroopers on January 30, 1972.
Greater Manchester Police said they were called to Boundary Park just after 9am yesterday after "reports that a letter containing death threats had been sent to Oldham Athletic Football Club".
Mr Kelly defended the tweet, saying he respected the former IRA commander for his role in the peace process - but not for his actio ns during the Troubles.
The Derry man has since deleted his Twitter account, and claimed that the row had been "blown out of proportion".