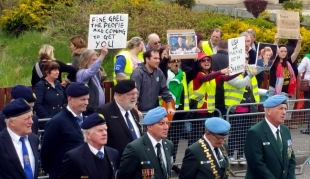 Demonstrators from Donegal joined about 100 anti-water charge protestors to snub Taoiseach Enda Kenny on Saturday.
They turned their backs on him and shouted slogans as he spoke during an unveiling ceremony in Ballymote, Co. Sligo.
Gardai, including a local unit of the public order squad, held off a group of protestors, which included demonstrators from Roscommon and Sligo as well as Donegal.
The Taoiseach was in the Co. Sligo town along with US Ambassador Kevin F O'Malley to unveil a monument paying tribute to the many thousands of Irish who fought and died during the American Civil War.
Chairperson of Donegal Right2Water, Charlie Mc Dwyer attended Satuday's protest, she says Enda Kenny was forced to see the 'displeasure' among the people of the North West: