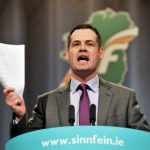 A Donegal Deputy has said a suggestion by Minister for Finance Michael Noonan that some people are "allergic to work" is insulting and offensive to those seeking jobs in the county.
Speaking at a Kilkenny Chamber of Commerce lunch on Wednesday, Mr Noonan said that "we all know there will be people who will never work. They're allergic to work."
Deputy Pearse Doherty says the comments are insulting to the many people in Co Donegal who had to emigrate and to people who are desperatley seeking work.
He said the comments show the extent to which the government is out of touch..........