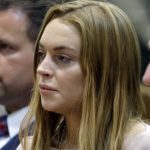 Lindsay Lohan has only completed a tiny fraction of her remaining community service while on probation for a reckless driving case and will face "consequences" if she doesn't finish later this month, a Los Angeles judge has warned.
Judge Mark Young said he was concerned Li-Lo had managed to work fewer than 10 hours of 125 hours of service she was ordered to complete over three years.
"If not done by May 28, there will be consequences," he said.
Lindsay, 28, is on probation for reckless driving and lying to police after crashing her Porsche on the Pacific Coast Highway in Santa Monica on her way to a film shoot in 2012.
The actress wasn't in the Los Angeles County Superior Court for her probation hearing, but she would be expected to show up later if she misses the deadline and prosecutors ask that she be found in violation of probation. If that happens, they plan to ask for jail time.
Santa Monica Deputy City Attorney Melanie Skehar was sceptical Lindsay could accomplish the steep task ahead of her in the next three weeks.
"Is it possible? It's possible. Is it probable? No," Skehar said outside court. "When you have a responsibility and you know what you have to complete by a certain date, there's no excuse."
The once-promising star of Mean Girls, whose career has sputtered and been overshadowed by legal troubles, could face up to a year and a half behind bars.
The actress ran into trouble earlier this year when her lawyer presented proof she completed 240 hours of community service with a charity in London, where she now lives.
After the prosecutor criticised Li-Lo for receiving credit for meeting fans of a stage production of Speed-the-Plow, which she appeared in, the judge rejected 125 hours and ordered her to complete them later this month.
Defence lawyer Shawn Holley said it's not feasible for Lindsay to make that deadline if she continues working with a charity that helps neglected children and disabled adults in London.
To complete the 115 remaining hours of service, Lindsay will pack her bags and move to New York to work with children in Brooklyn, Holley said.
Lindsay wasn't able to complete the service in London because she lives 90 minutes from where she was required to work, Holley said. With private transportation costing 76 dollars (£49) an hour and Lindsay out of work, that proved difficult.
Li-Lo had suggested her lawyer ask the court to consider three hours of commute time as community service, but Holley said she knew it was a "non-starter", so she didn't bother to ask.
The case is the final legal matter Lindsay faces in Los Angeles, where she was first arrested in a driving under the influence and drug possession case in 2007 and later charged with stealing a necklace from a Venice jewellery store.
She has struggled to comply with the terms of her sentences. She has been sentenced to jail five times, ordered to work in the Los Angeles morgue and sent to court-mandated rehab several times.