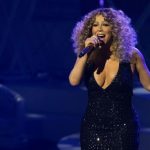 Mariah Carey has reached the high notes once again as she opened her Las Vegas show.
She took to the stage for the opening night at The Colosseum inside Caesars Palace.
Her two-hour show Mariah #1 to Infinity catalogues her 18 number one hit singles in chronological order, capped off with her just released break-up ballad Infinity.
Rotating headliners on The Colosseum's stage also include Celine Dion, Sir Elton John and Rod Stewart.
The near-capacity crowd at Wednesday's show cheered with every one of the star's piercing high notes.
Tickets cost up to 250 dollars (£164) and Mariah, 45, is scheduled to perform three nights a week in May and July for a total of 18 shows.