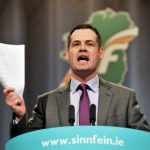 The Finance Minister says he has no objection to reducing the bankruptcy period - but not as part of planned solutions to mortgage arrears.
The coalition's to make changes to the insolvency arrangements in the coming weeks with new legislation from the Department of Justice.
Labour backbencher Willie Penrose has proposed reducing the bankruptcy period from three years to one.
Michael Noonan says he has no objection and believes it should be looked at in the coming months.
Meanwhile, Donegal South West Deputy Pearse Doherty says the huge increase in repossessions taking place is "a disaster created by government" and that the buck stops with government TDs who have accepted the policies that created the crisis.
The Sinn Fein Finance Spokesman said the shocking figures of family homes now being repossessed is down to government policy. They have created the environment where the hundreds of repossession can take place and no amount of hand wringing can change that fact......