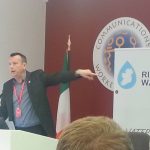 Activists from Right2Water Donegal have attended a weekend conference in Dublin aimed at bringing various campaign groups and unions together in a bid to tap into the extent of the campaign against water charges.
The Right2Water group published a list of seven policy principles at the meeting, and has opened a consultation process ahead of another meeting next month.
Philip Mc Fadden is one of the Donegal delegates who attended the meeting.
He's urging people in Donegal to make their views known.
He says the ultimate aim is to unite the left ahead of the next general election........
Picture - Brendan Ogle of Right2Water addressing the weekend meeting.