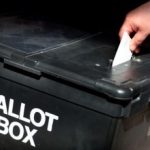 The Bishop of Raphoe Dr Philip Boyce has issued a Pastoral Letter ahead of the Marraige Referendum, stating that a commitment to human rights and equality is not incompatible with recognising difference.
In the letter, he says he will be voting no.
The Catholic Primate of All Ireland says he's been surprised by some of the Taoiseach's comments on the Marriage Referendum.
Archbishop Eamonn Martin is calling on politicians on the yes and no campaigns to take part in the public debate on the referendum.
Last night, Archbishop Martin said the church cannot support the amendment to the Constitution as it would place the union of two men, or two women, on a par with that between a husband and wife.
When asked if Enda Kenny should take part in a live broadcast debate on the issue, this is what he had to say.........
Founding Director of Belong To Micheal Barron, says it's important to vote YES for the future generations of LGBT people in Ireland.............