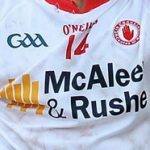 Tyrone 1-11 Tipperary 0-13
Tyrone won their first All Ireland U21 title in fourteen years beating Tipperary in the Final at Parnell Park in Dublin on Saturday evening.
Played in very wet conditions and having trailed from the start, Tyrone took the lead for the first time in the game in the 47th minute with the games only goal.
Cathal McShane's strike put them two points in front and the O'Neill County held the advantage to win by a point.
It was Tyrone's first appearance in the final since 2003 and their first win since 2001.
Francis Mooney talks to Tyrones U'21 Manager Fergal Logan, after the match.....
and we get some reaction from Tyrone's Defender Ruairi Mullan .....